Cbmsh
Cbmsh is a unix-like shell for 6502 based commodore computers, like the c64, vic-20 and c128.
It features the classic unix commands like ls, more, echo, cd etc. adapted to work on a commodore floppy disk or the modern sd2iec standard.
If you want to know more, download cbmsh and have a look at the README and CHANGELOG files.
Cbmsh is distributed under the GPL license.
It is based on the sash shell. It is coded in C and should be compiled using the cc65 compiler.
Screenshots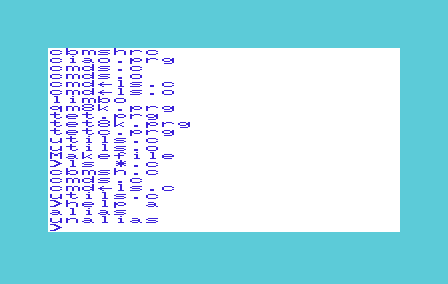 Download
Download cbmsh 0.3 (sources and binaries)
Download cbmsh 0.2 (sources and binaries)
Download cbmsh 0.1 (sources and binaries)
Discuss Cbmsh (Denial forum thread)